There are a lot of things I'm excited about this week, my friends, and I feel like sharing. Admittedly, there's a little horn tootin' here, but not too much, I promise.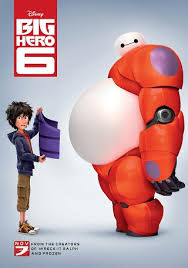 Big Hero 6 — First off, today is the official release day of Big Hero 6, the latest animated feature from Disney, and the reason I was pretty quiet over the summer. Whew! In all my years in animation and vfx, I think this is the hardest I've ever worked. I'm biased, of course, but I think it turned out pretty darn well. If you like animated films, Disney, or superheroes, then I bet you'll love this one! Look for me in the "Technical Animation" credits. (That's cloth, hair, and character cleanup, plus other squishy things like Baymax's skin.) Congrats to all my fellow (very talented) artists and filmmakers on the film!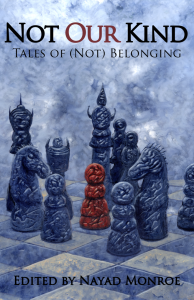 Not Our Kind — Next, I have a story "For Outside Are the Dogs," in Alliteration Ink's newest anthology, Not Our Kind: Tales of (Not) Belonging. The Not Our Kind Kickstarter is in its final hours, and we're still (as of this writing) about $1800 from our goal. Editor Nayad Monroe has picked some great stories by some fantastic authors and there are some fun backer rewards, too. If you have already backed us, THANK YOU. If you like thoughtful spec fic stories, please consider backing us — or at least spread the word to your friends. Thank you!
(BTW, I also found out this week that a couple of my stories made Ellen Datlow's Year's Best Horror, Vol. 6 Honorable Mention list! One of them was in anthology called What Fates Impose, also from Alliteration Ink and Nayad Monroe. Wow! Thanks Ellen! I'd like to devote a whole post to that, so stay tuned.)
(/end shill)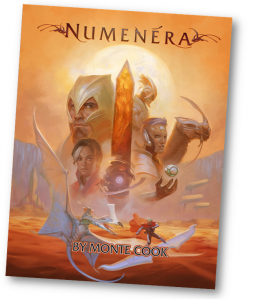 Numenera — It's been awhile since I've run a RPG, work and life has been just too busy. A small group of writers asked me to run Monte Cook Games' Numenera online, and I so jumped at the chance. Numenera is a RPG set on a far-far-future Earth (the Ninth World), along the lines of Jack Vance's Dying Earth, Gene Wolfe's Book of the New Sun, or even Miyazaki's Nausicaa. In short, The Ninth World is pseudo-medieval society, surrounded by the ruins of at least eight super-science civilization (a billion years' worth of them, in fact). The Super-science so advanced, it looks like magic. MCG's Cypher system is deceptively simple and designed to be easy on the GM. No more hours and weeks of prep — the GM rarely even rolls dice! The Cypher system encourages the player characters to be larger than life and embrace the weird nature of the setting. Our group had a blast, and I'm interested in playing more Numenera and its sister-setting (using the same Cypher system), The Strange. Big thanks to Bear Weiter (of Monte Cook Games) for playing AND setting us up with some pregen characters and a quick primer on how to play! (Also thanks to Jaym, Mark, and Nev for their very entertaining antics! There are some phrases I'll never be able to get out of my head now…)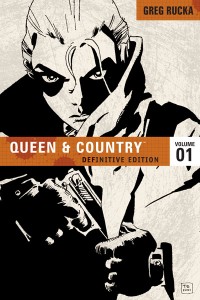 Queen & Country — Good friends Remy Nakamura and Chris East have been raving about Greg Rucka's Queen & Country comic for some time. I'm a big fan of Rucka, and not wanting to miss out, I convinced Chris (it wasn't too hard, really) to lend me Volumes I & II of the omnibus editions. For those of you who haven't read it, it's a series about British spies in (mostly) the post-9/11 era. Holy Crap. I should be savoring them, but the stories just suck me in and suddenly it's 1am and I'm starting the next one. A variety of artists worked with Rucka on the series, but my favorite (so far) remains Steve Rolston, whose slightly more cartoony style works surprisingly well for a spycraft thriller. I particularly like Rolston's vision of the lead character, Tara Chace. He depicts her as a tough, capable spy, without resorting to stereotypical curvy, over-sexy, femme-fatale look that you often see in these sorts of characters. To be fair, Rucka's hardly created her as a typical femme-fatale, either. Chace is a troubled, flawed human being, even if she's pretty good at her job. Things go wrong a lot, though, and I think that's one of the aspects of Queen & Country I like most: even happy endings leave a lot of loose ends.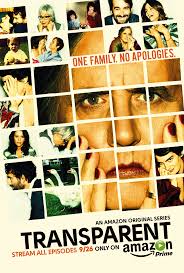 Transparent — Speaking of well-drawn characters, we've started watching Amazon Studios' newest dramedy series, Transparent. It's all about a squabbling L.A. family and what happens when Dad comes out as trans. I can't recommend it highly enough. Led by Jeffrey Tambor in the starring role, the cast does a marvelous job portraying some pretty messed-up, selfish, and funny people. When Dad comes out, it triggers all the secrets the rest of the family's been keeping. The chemistry is there from the first episode, and the writing is smart, funny, and courageous. So far, we've been impressed how it handles trans issues with a lot of humanity and even dignity.
What do YOU love this week?
---